Unit Code: 3798
Great location, but difficult to navigate
Reviewed on 2021-03-05 by from Walnut Creek, CA United States
Updated on 2021-03-05
Services from rental manager
Cleanliness
Location
Property condition
Overall, this place is a great location, walking distance to all the downtown shops and restaurants, and a 15 min walk to the beach. It was very clean, had a well stocked kitchen, with everything you would need for a relaxing stay. However, the directions and address are really misleading, making it difficult to find. I suggest calling to get directions before you go. The tv in the bedroom does not work as the internet is spotty. The shower is tiny, and the power goes out frequently because of old electrical and blown fuses. This meant that one night the heater didn't work and another day the dishwasher didn't work. You also have to sign a lengthy contract with a ton of rules, and give them a lot of details about the people staying with you and your dog if you are bringing one. It wasn't a huge deal for us, as it was just two of us spending a weekend away, but it seemed excessive for what we were paying. There are also really thin walls so you can hear any conversations happening in the next apartment over. You are definitely paying for the location.
Delightful Modern Apartment
Reviewed on 2021-01-19 by Karen H. from United States
Updated on 2021-01-19
Services from rental manager
Cleanliness
Location
Property condition
We had a delightful stay at Cedar Place! The location is perfectly situated in downtown Carmel, just a few short blocks off Ocean Avenue making it easily walkable to shops, restaurants, and the beach. The apartment is fresh, bright, cozy, and impeccably clean. The dining and living room areas are comfortable and relaxed with a modern style in beachy tones. The rental management staff was incredibly friendly and helpful. Everything was perfect! We could not have been more pleased with our stay.
Thank you for your wonderful review of your stay at Cedar Place. We agree that the location is ideal for exploring the Carmel area and everything is within walking distance out the front door. We look forward to your next visit to the area.
Great location and cozy apartment perfect for your stay in Carmel
Reviewed on 2020-10-24 by Tiernan C. from Granite Bay, CA United States
Updated on 2020-10-24
Services from rental manager
Cleanliness
Location
Property condition
The apartment is very modern complete with all home remedies you need during your stay. Great kitchen for cooking, comfortable dining and living room with the ability to close off the bedroom/bathroom area. In walking distance to everything. Would highly recommend this location!
Thanks so much for the great review of Cedar Place. We are glad you enjoyed your stay with us and look forward to your next visit to the Carmel area.
Perfect for us
Reviewed on 2020-10-04 by Devon A. from Yountville, CA US
Updated on 2020-10-04
Services from rental manager
Cleanliness
Location
Property condition
It was our first visit to Carmel, so staying right in town was great. We walked everywhere.. and the place was very well appointed, and attractive. We met the Sanctuary vacation inspector as we were arriving. He was very nice, even offered to help carry our luggage and he gave us good tips on parking.<br/>Our one note to management is that the place could have been cleaner. . There was dog hair on the sofas.
Thanks very much for your review of Cedar Place. We are pleased you loved the fabulous location in downtown Carmel. We apologize for the dog hair and have passed on your comments to the Inspection team to ensure these details are looked after. We look forward to your next visit to the area.
Cozy Carmel
Reviewed on 2020-08-01 by Sylvie W. from Boston, MA United States
Updated on 2020-08-01
Services from rental manager
Cleanliness
Location
Property condition
Lots of nice little touches. The property was beautiful and centrally located. The kitchen had every tool you'd need to cook up a special meal. It was a very cozy and peaceful spot.
We are pleased you enjoyed all the special touches we have put into Cedar Place as well as it's great location.
Review of 3796 Cedar Place
Reviewed on 2020-02-11 by Jerome M.
Updated on 2020-02-11
Services from rental manager
Cleanliness
Location
Property condition
Trip included four nights/five days - terrific trip for my wife and I - property description accurate - very convenient to everything (ocean ave) - many shops to visit and restaurants!! Parking a small issue
Thanks for your review of Cedar Place. Yes, parking can be an issue in our area with the smaller streets and spaces, but we are pleased you enjoyed the rest of your experience with us and we look forward to seeing you on your next trip to the Monterey Peninsula.
Leave a Review
[2]
Custom6
This home is Pet Friendly.
GENERAL
Clothes Dryer
Internet
Iron & Board
Linens Provided
Living Room
Towels Provided
Washing Machine
Quality Bedding & Towels
Designer Décor and Furnishings
Iron and Ironing Board
Parking: On Street
Pet Friendly - Yes
Washer and Dryer (Private)
Wine Tasting Passes for 2
Standard Wifi / Internet Service
Home Exterior/Outdoors
Balcony
Beach Gear/Towels/Cooler/Chairs
Entertainment Systems
Cable or Satellite TV
Master Bedroom TV
More than one TV
3798 Nightly Rental ~ Downtown Carmel Flat ~ Close to Everything!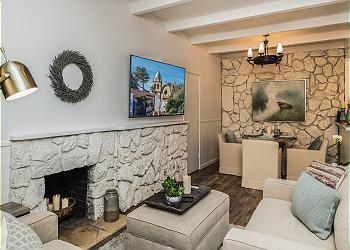 [3]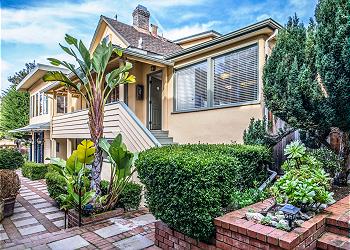 [4]
[5]
[6]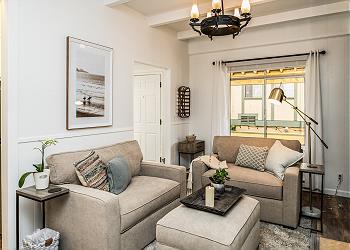 [7]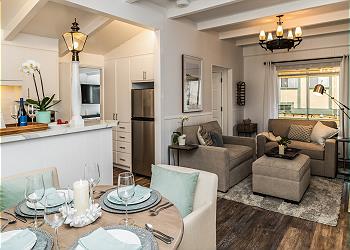 [8]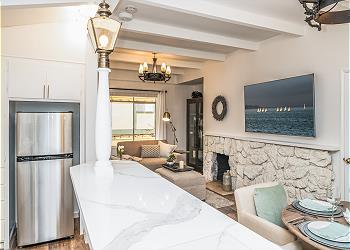 [9]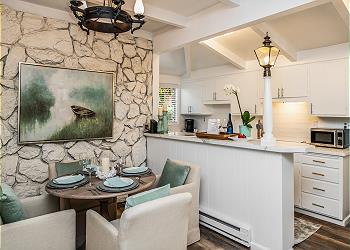 [10]
[11]
[12]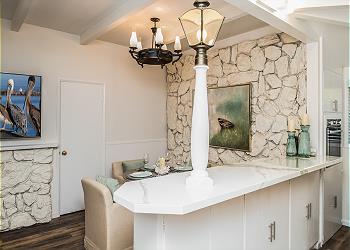 [13]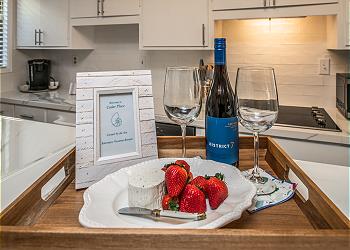 [14]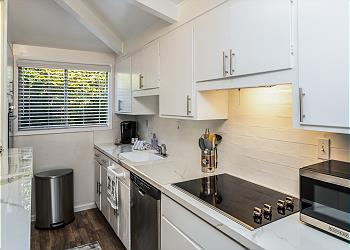 [15]
[16]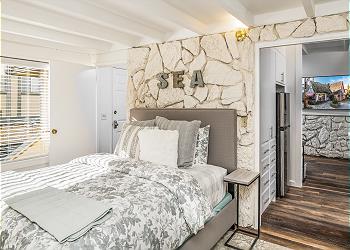 [17]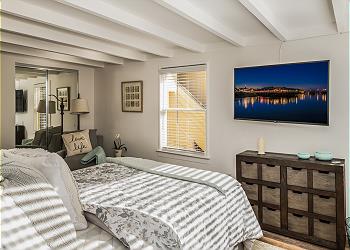 [18]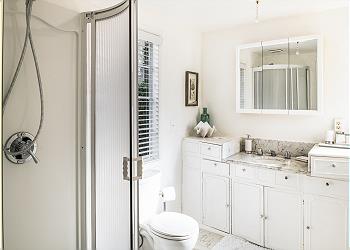 [19]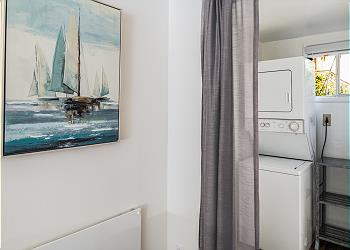 [20]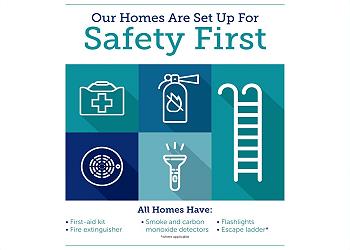 [21]
[22]
[23]
[24]
[25]
[26]
[27]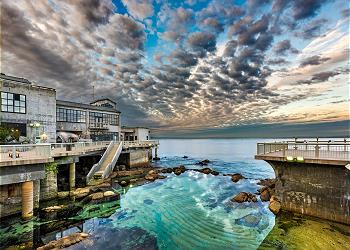 [28]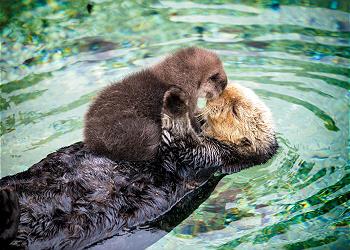 [29]
[30]
[31]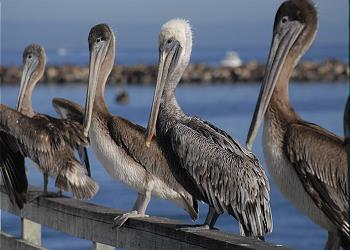 [32]
[33]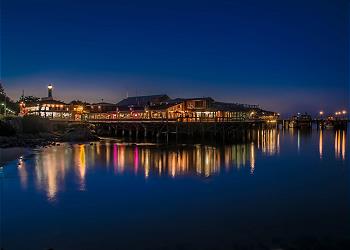 [34]
[35]
[36]
[37]
[38]
[39]
[40]
[41]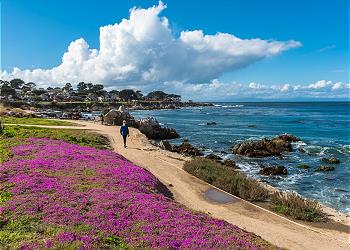 [42]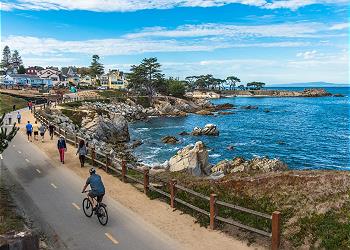 [43]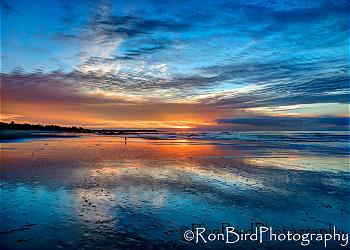 [44]
[45]
[46]
[47]
[48]
[49]
1 Bedroom
1 Bath
Welcome to "Cedar Place"! Sleeps 2 adults in queen bed and up to 2 children on 2 twin sofa beds in the living room.
(For larger groups, ask about Pine Place right next door - a large 1+ bedroom flat that sleeps another 4 guests.)
This newly renovated Mid-century upper-floor apartment in Carmel-by-the-Sea, has eclectic artwork, lovely new furnishings and is in pristine condition.
The 600-square-foot residence is ideally located in the heart of Carmel, making it easy to park your car and walk to the beach, restaurants, theater and music venues, shopping and art galleries. Set within a beautifully landscaped courtyard, the apartment is just steps away from Carmel's acclaimed Village Gem restaurant!
Interior whitewashed stone walls and vaulted open-beam ceilings give this apartment a unique appearance, along with built-in cabinetry, a galley-style kitchen, and mid-century light fixtures. Original artwork and eclectic furnishing complete the ambiance and large windows let in generous amounts of natural light.
By car, it's just 10 minutes to the world-class golf courses and restaurants of Pebble Beach®, to Monarch butterfly sightings in Pacific Grove, or to the Monterey Bay Aquarium and Cannery Row. Other attractions within a half hour's drive are the natural wonders of Big Sur and wine tasting and dining in Carmel Valley Village.
Upon your arrival, you will be greeted with complimentary cheese and wine or sparkling cider, wine tasting passes and a basket of local information. An assigned concierge vacation house manager is available to assist you during your stay. We have also provided spa amenities in the bathrooms, as well as spa robes, and beach towels.
The apartment features an entryway from which there is access either to the living room or the bedroom. The focal point of the cozy living room is a Carmel stone fireplace lit with electric candles, surrounded by comfortable seating and featuring a 46-inch HDTV, a perfect place to sit and enjoy games or conversation. Two one and a half sleeper sofas are available as a sleeping option for up to two children.
The living room merges with the dining room with seating for four. The convenient kitchen next door features plenty of counter space, a new cook-top and wall oven, dishwasher and built-in storage. A kitchen window offers a view of ivy-covered walls and camellias.
The large bedroom features a queen bed and an en suite bath, with a glass shower, marble tile flooring and vanity countertop, and a unique vanity with generous amounts of storage. A stacked washer-dryer is located next to the bathroom.
There is private parking available in front (first come first served) and ample street parking as well.
See also Rates Notes for additional information about this property.
ALSO ASK ABOUT PINE PLACE RIGHT NEXT DOOR WHICH IS A LARGE 1+ BEDROOM, 1 BATHROOM APARTMENT THAT SLEEPS UP TO 4 ADULTS.
LocationField
Sanctuary Vacation Rentals
Location:
Mission, 2 NE of 5th
Village Court, Unit - Cedar Place
93921
Carmel-by-the-Sea
,
CA
United States
36° 33' 26.0352" N, 121° 55' 14.5488" W
California US
Location
Sanctuary Vacation Rentals